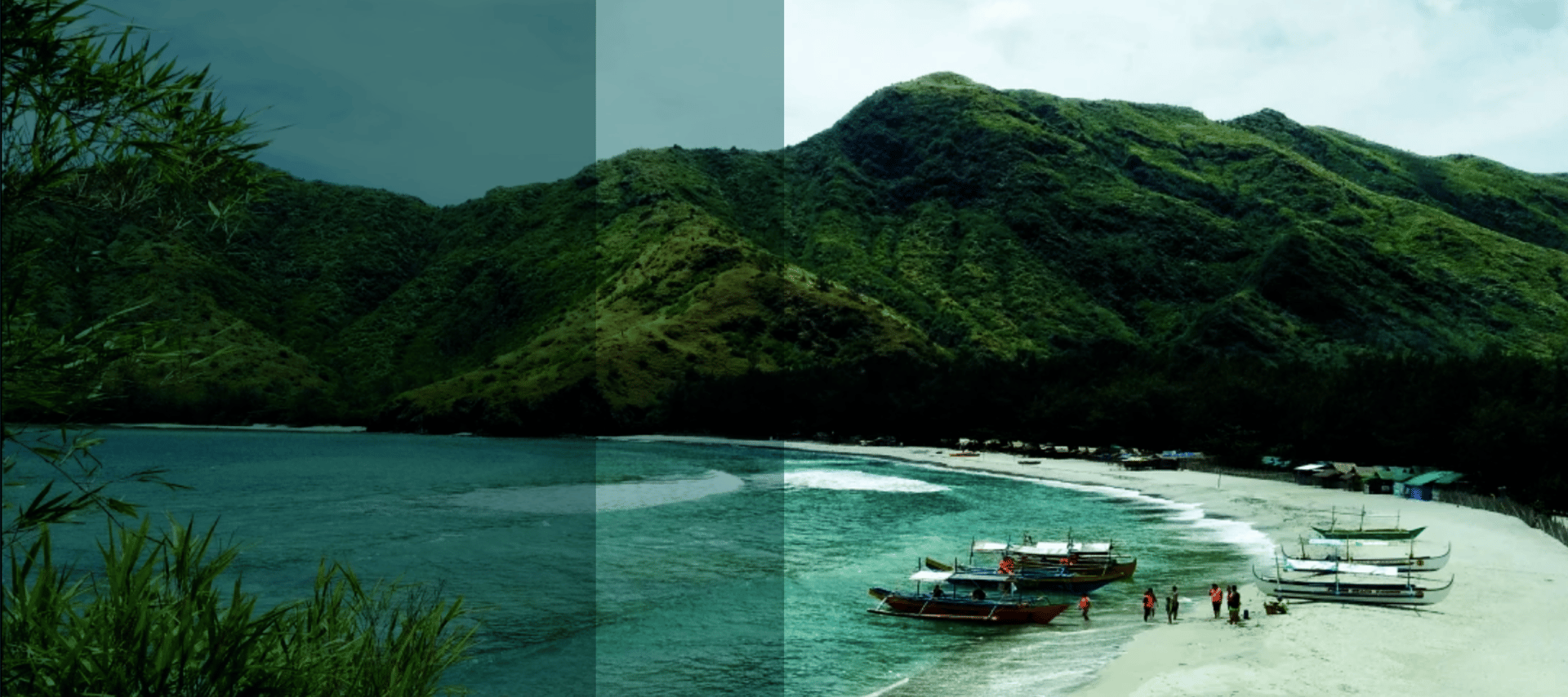 Anawangin Cove & Lake Resort
An unforgettable place to stay.
Package 1 - 1 to 2 pax
P1,299.00/head

Package 2 - 3 to 10 pax
P799.00/ head

Package 3 - 11 to 19 pax
P599.00/ head

Package 4 - 20 pax and above
P499.00/ head
Overnight fee
Roundtrip boat transfer
Tent accommodation (2 pax per tent)
Island hopping to Capones (if weather permits)
Saturday night party entrance
Note:
1. All packages can be rebooked once just inform us 2 days or 48 hours before your visit. Otherwise, it will be canceled automatically.
2. We will require a 50% down payment to reserve your slot in the boat transfer and campsite.
Mag Enjoy sa beach, Tumulong at Manalo!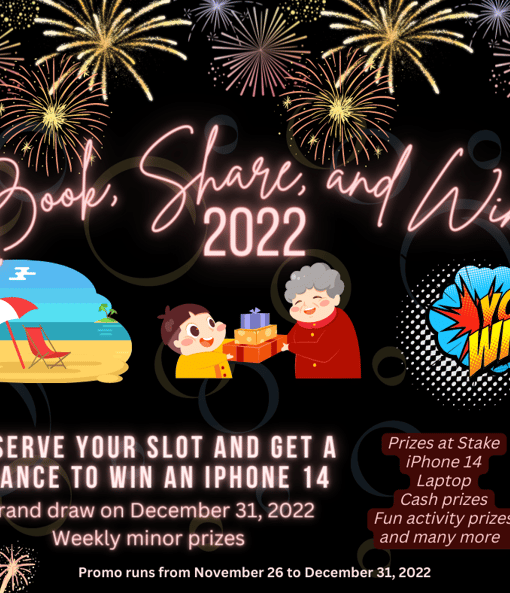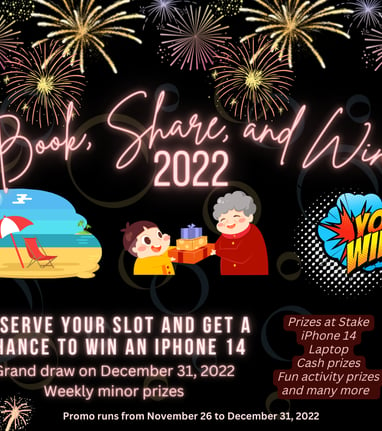 Visit the resort on a weekend from November 5 to December 31, 2022, and get a chance to share with the community and win various prizes weekly and on the grand draw.

P1,299.00/ adult
P700.00/ 6 to 12 years old

Inclusions:
Overnight fee, roundtrip boat transfer, tent accommodation (2 pax per tent), island hopping to Capones (if weather permits), Saturday night party entrance, and raffle ticket.
DAY 1

7 AM Arrival at Purok 5, Pundaquit
Parking, full payment of package fees

8 AM Boat departure for island hopping to Capones
(if weather permits)
Maximum of 25 passengers per boat
Swimming at Capones Island for 20 minutes

930 AM Arrival at the resort
Free time - swimming, trekking, banana boat

2 PM Check-in: Distribution of tents
(may be earlier depending on the availability)

7 PM Start of night party (every Saturday only)
DAY 2

10 AM to 12 NN Checkout time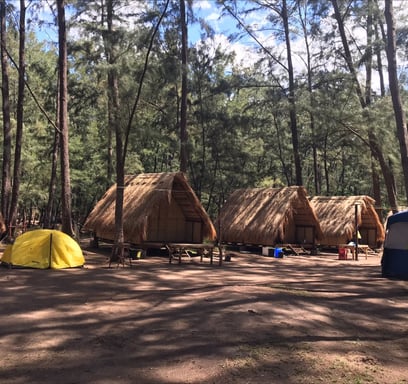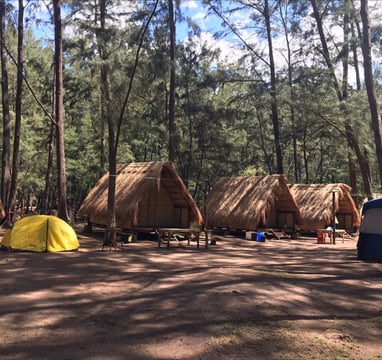 Family Fan Room
P5,000.00/night
Good for 6 pax

Inclusions
3 queen-size beds with pillows and blanket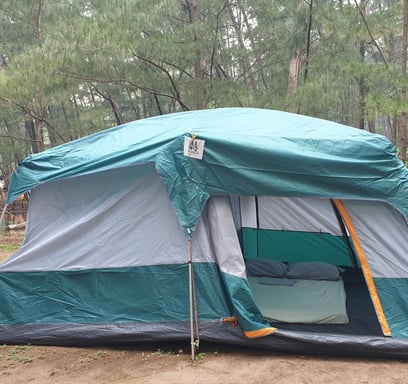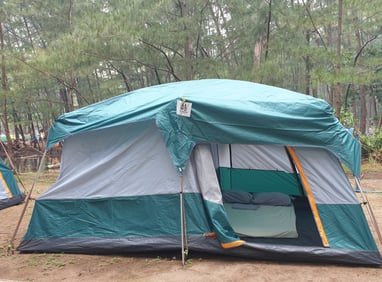 Glamping Tent
P3,500.00/night
Good for 6 pax

Inclusions
Mattress, Pillows, Blanket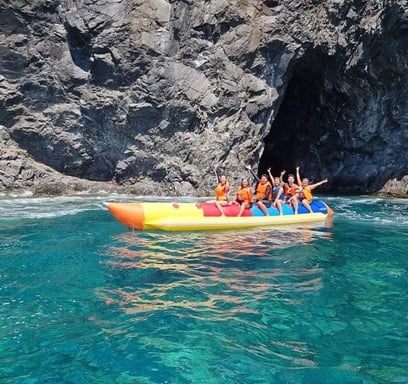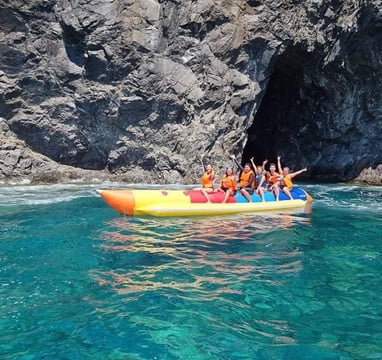 Banana Boat Ride
P250.00/ride
Maximum of 8 guests per ride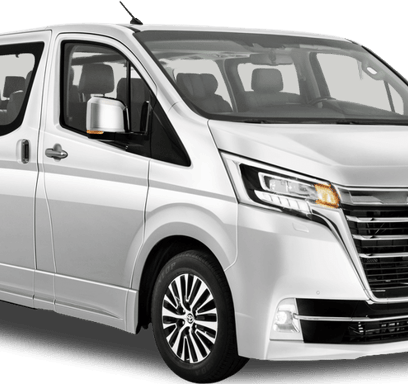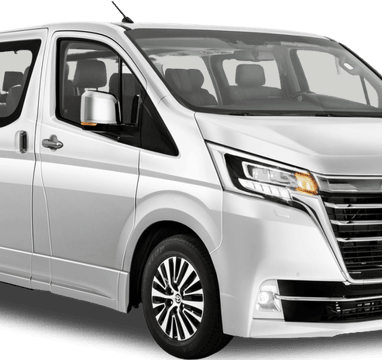 Roundtrip Van Transfer
MLA-Anawangin_MLA
P15,000.00/overnight
Maximum of 10 guests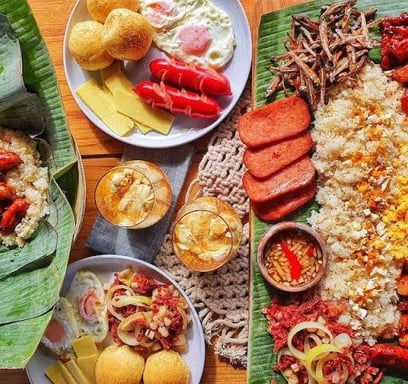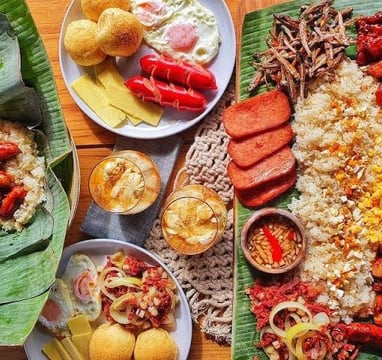 3 Meals - Breakfast, Lunch, Dinner
P500.00/ head
Lunch (Day 1)
11am-1pm

Pork Liempo
Chopseuy
Rice
Fruits and Drinks
Dinner (Day 1)
6pm - 8pm

Chicken Inasal
Inihaw na Pusit
Rice
Drinks
Breakfast (Day 2)
6am - 8am

Hotdog
Egg
Rice
Drinks
The menu will be finalized before your visit. It is strongly advised to still bring extra food.
Frequently Asked Questions
How to book?
First, check the ongoing promo and its inclusions because it may change without prior notice. Second, decide if you want to have an add-on room accommodation. Third, book your visit via our FB page or website. If your preferred date is available for your visit, we will require a 50% down payment which is non-refundable to block the schedule for you. Note that the resort is only open every Friday to Sunday and only day tour booking is allowed on a Sunday.

Can I book a day before my visit?
We strongly advise that you book at least 1 week in advance to ensure the availability of your preferred schedule and boat transfer because the resort can only be reached via boat transfer from Pundaquit, San Antonio, Zambales.

Can anyone assist me? I have questions.
We will be able to respond quickly if you send your inquiries via FB Page during office hours - Monday to Friday, 8 am to 6 pm. Inquiries received during the weekends may be responded to during office hours. But we will try our best to respond as soon as we can.

Nobody is answering my call.
Our mobile phone is taking numerous calls most of the time. It is best to communicate with us via our FB Page.

Is the room available on my preferred dates?
Message us your preferred date of visit via our FB Page so we can check.

What time is the check-in and check-out for an overnight stay?
Starting July, there are 2 boat schedules from Pundaquit to the resort - 8 AM and 1 PM. Boat schedules for those who will check out from the resort are 10 AM and 12 PM. Make sure to be at the designated area at least an hour before your boat schedule. For day tour guests, the boat schedule back to Pundaquit is at 5 PM only. If you want to have your own roundtrip boat schedule, we can arrange a special trip for you for only P2,500.00 for a maximum of 25 guests. This will include the island hopping to Capones PLUS Camara. The Schedule of the boat may change based on the season.

Can I extend my stay in the same room accommodation?
It depends on the availability of the room. Usually, all weekends are fully booked, so you may extend using tent accommodation.

Is there a child rate?
6 to 12 years old may enjoy the ongoing child rate while 5 years old and below are free of charge.

Can we bring our food?
We strongly suggest bringing your own food and drinks. There is no corkage fee.

Do you have other packages?
Currently, these are the ongoing promo packages. This may change without prior notice.

Can I have other island-hopping options?
Guest must rent an exclusive boat for island hopping to Capones and Camara Islands. The exclusive boat costs P2,500.00 for a maximum of 25 guests. The boat transfer schedule will be based on your requested time.

Can we bring our tent?
Yes without any pitching fee.

Is there internet and electricity in the resort?
You will enjoy the right to disconnect. There is no signal available at the resort. But we have electricity from 6 pm to 6 am for you to charge your cellphone and continue taking photos and videos of your trip.

What are the important things to bring?
Toiletries, power bank, insect repellant, flashlight, water, pillow, and blanket or beddings for the tent. You may also bring food to cook just make sure to bring charcoal.

How to get there?
Pin in your map 5 Pundaquit Road, San Antonio, Zambales. If you are commuting from your place, search Google on how to go to Anawangin Cove. You will be provided with a contact person after your down payment.

What do we need to prepare before our check-in date?
There is no checkpoint on the Zambales border since Zambales is at Alert Level 1. But to be sure, prepare your vaccination card. Also, make sure to get in touch with the contact person that will be indicated in your booking confirmation.

How much is the parking fee?
Please prepare the following fees per night: P50.00 for a motorcycle, P200.00 for cars. Your vehicle will be safe since there is a caretaker in the parking.